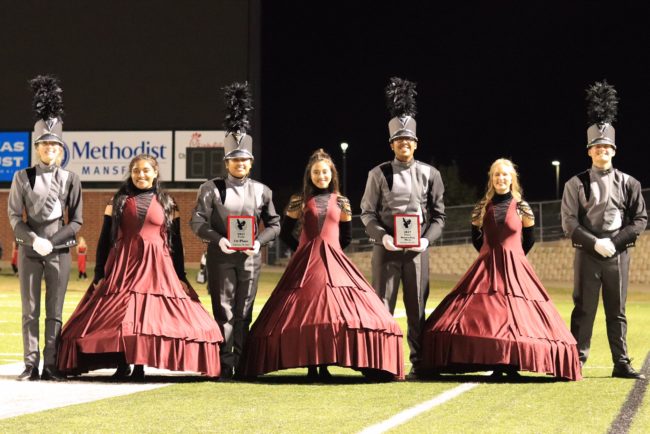 Pride of Haltom: Week of October 2
October 2, 2017
Congratulations!  Great job this weekend. Here is this week's schedule as we prepare for the Broken Arrow Invitational:
Monday, October 2
Afterschool – work with your teachers to bring all grades as high as possible
5:30pm-8:00pm – Full Rehearsal at HHS
Tuesday, October 3 – Bandfest!
3:15pm Full Band Rehearsal at HHS
4:45pm Meal Provided, Dress
5:45pm Load Buses, depart HHS
6:15pm arrive at FAAC, unload equipment
6:40pm Warm Up Begins
7:30pm – Program begins, Low Brass National Anthem followed by HHS Band
8:30pm – appox finish, return to HHS
9:15pm –dismissal from HHS
Wednesday, October 4
No rehearsal
Thursday, October 5
3:30-5:30pm – Full Band Rehearsal at HHS.  Highstepper song of the week is "Get Lucky"
Friday, October 6 – No School/Marching Clinic/Game at Keller
Noon – report to HHS wearing blacks
12:30 – buses depart HHS for FAAC
1:00 – arrive/unload
1:30-3:45pm – Clinic with Mr. Watson
4:30pm – buses depart FAAC for HHS
5:00pm – HABF Meal Ticket Dinner at HHS
6:00pm – buses depart for Old Birdville Stadium
7:30pm – kick off at Old Birdville Stadium
?:?? – Return to HHS for dismissal
Saturday, October 7 – Broken Arrow Marching Invitational
Complete Itinerary for Broken Arrow Invitational 2017
6:00am – arrive at HHS departure, arrive wearing blacks under bus clothes, long black socks and MTX's
HABF will provide lunch and dinner, bring $5 for both meals.
2:45pm – Haltom Prelims performance time
Sunday, October 8
5:00am – approximate arrival back home to HHS
As always, Keep the Spirit!